Local Girl Scout digs deep — literally — for fire safety awareness
By Brandi Makuski
The town of Dewey has a new Smokey the Bear sign, thanks to a local Girl Scout.

Autumn Polum, 14, of Stevens Point, helped raise nearly $2,000 to purchase a new fire danger sign for the town, where her mother, Malayna Polum, is a member of the volunteer fire department.
Autumn Polum is a member of Girl Scout Troop 6260. Acquiring and installing the new sign is her Silver Award project, an achievement on her path to the Gold Award (the Girl Scout equivalent to the Boy Scout Eagle Award). The Silver Award is open to Scout Cadettes in sixth, seventh, or eighth grade and must include a project close to a Scout's heart that makes a difference in their community.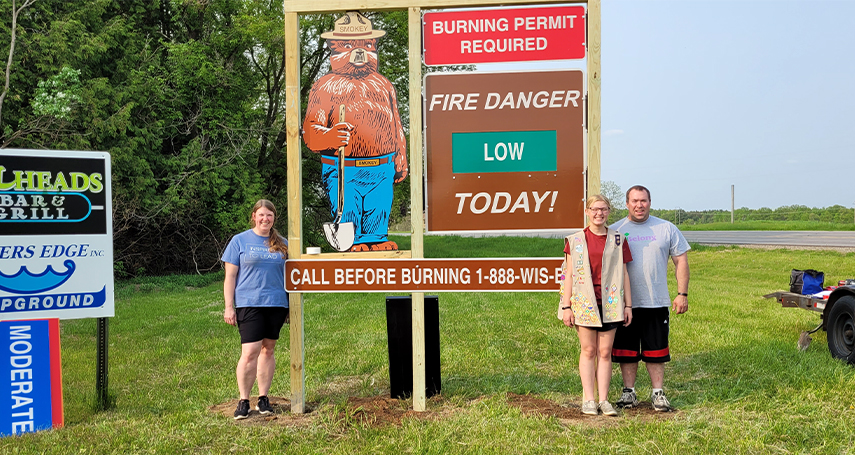 Malayna Polum said the idea came from fellow Dewey firefighter Dave Larson. She took the idea back to the Troop, and Autumn liked the idea.
About $1,560 came from Troop funds, while Autumn Polum applied to the project $200 in cookie sale rewards she received during the spring 2023 Girl Scout cookie sales. Malayna Polum donated the wood posts and concrete.
With help from Malayna Polum's boyfriend, John Spreda, it took the trio a few days to assemble the sign, which was purchased through the Wisconsin Department of Natural Resources. The pieces were picked up in Tomah, she said.
Autumn Polum helped dig two-foot-deep holes for the sign over an hour on May 22. The sign was installed, with help from the DFD and town employees, at County Rd. X and Sunset Dr. North across from the Pok-A-Snoz Snowmobile and ATV Club's groomer shed.
According to Dewey Fire Chief Brian Lepper, Assistant Chief Ken Levandowski will be changing the fire danger signs as conditions change, which is set by the DNR.
"We had several calls this spring of people burning when the DNR had issued a burning ban," Lepper said. "This will be a great awareness tool."